Porky Minch
From WikiBound, your community-driven EarthBound/Mother wiki
Jump to navigation
Jump to search
| | |
| --- | --- |
| | Spoiler warning: this article or section may contain major plot or ending details! Proceed with caution. |
Porky Minch (Japanese: ポーキー Porky), transliterated as Pokey in EarthBound, is Ness's neighbor, making his debut in EarthBound, and later appearing in Mother 3. Porky is the son of Aloysius and Lardna Minch as well as the older brother of Picky Minch. He is the secondary antagonist in EarthBound and the main antagonist in Mother 3.

Porky makes his debut in EarthBound where his name is erroneously localized as Pokey. In EarthBound, Porky initially lives in Onett with his father, Aloysius Minch, his mother, Lardna Minch, and his brother, Picky Minch. Living next to Ness, Porky is often seen as an unruly nuisance, being selfish and cowardly, which is believed to be because his parents are also selfish and unpleasant individuals[1]. He also enjoys playing practical jokes. Porky does not have any friends, according to Shigesato Itoi he often used to play with Ness because of this[2]. When a meteorite strikes Onett, Porky is one of the first to investigate. When Picky goes missing, Porky recruits Ness to help find him. Along the way Porky cowardly plays dead or hide behind Ness whenever they're under attack. At the meteor they find Picky, who explains it was actually Porky who got scared and ran off. As they're leaving, Porky and Picky then witness Buzz Buzz retelling of the prophecy to Ness, to which Porky convinces himself that he is not one of the chosen four heroes. After this, the Starman Junior ambushes them. Porky cowers as Ness and Picky assist Buzz-Buzz with battling the alien on their own. Porky is then returned home where he is punished by his father for sneaking out at night, then he seemingly leaves home to follow Ness' travels. At some unknown point, Porky becomes affiliated with Giygas, party due to his jealousy for Ness.
Ness later encounters Porky in Happy Happy Village. Allegedly, Mr. Carpainter gave Porky a major role in Happy-Happyism as the high-priest. He was directly responsible for the kidnapping of Paula. After Ness finds Paula, he sends two Happy-Happyists and Spiteful Crows to stop him from getting the key from Carpainter. Carpainter's defeat only has Porky falsely apologize to Ness, and while Ness and Paula continue on their way, Porky follows the trail of the Mani-Mani Statue.
In Fourside, Porky, alongside his father, have achieved power and affluence by working as business consultants for the shady mayor Geldegarde Monotoli. Paula's rescue again results in his escape in a helicopter. From here, Porky is not seen again in the present. However, he was known to steal a Phase Distorter from Dr. Andonuts, Apple Kid, and the Mr. Saturns, which he used to travel back in time to prepare for the arrival of the Chosen Four.
In the lair of Giygas, Porky confronts Ness and his friends as Giygas awakes in the Devil's Machine. Porky pairs up alongside Giygas in his machine, the Heavily Armed Pokey, to stop Ness and his friends. He states that Giygas is incapable of being comprehensive, and calls him an "all-mighty idiot" as he shuts off the Devil's Machine, revealing Giygas' true form. When Giygas is defeated, Porky escapes in his disintegration, traveling through time and space away from the Cave of the Past, but not without taunting Ness as he leaves. Finally Porky sends a message to Ness through Picky, which reads
| | | | | |
| --- | --- | --- | --- | --- |
| | • | | Come and get me, loser! Spankety spankety spankety! | |
As a party member
Porky temporarily joins Ness' party during the search for Picky. His in-game actions cause no effects and are determined randomly.
| Text | Effect |
| --- | --- |
| Use Ness as a shield | Does nothing |
| Play dead | Does nothing |
| Apologize profusely | Does nothing |
| Think to himself | Does nothing |
| Act innocent | Does nothing |
| Smile insecurely | Does nothing |
| Complain to Ness | Does nothing |
Porky also has stats that cannot be seen in game.
Pokey

Offense
1
Speed
5
Luck
1
As an enemy
See also: Giygas: Devil's Machine
Heavily Armed Pokey


じゅうそうびポーキー

Heavily Equipped Porky

Appearance in EarthBound
Stats
HP
2000
PP
999
Offense
145
Defense
255
Speed
60
Guts
5
PSI strengths/weaknesses
Fire
50%
Freeze
50%
Flash
0%
Paralysis
50%
Brainshock
99%
Hypnosis
0%
Experience/money yields
Exp.


0

Money


$0

Locations
Cave of the Past
Porky appears as a boss in the first phase of the final battle, as Heavily Armed Pokey. He battles alongside Giygas in order to stop the Chosen Four.
| Text | Effect |
| --- | --- |
| Discharge a very stinky gas | Lowers all party members' offense and defense for the duration of the battle |
| Charge forward | Deals high-level damage to one party member |
| Tear into target | Deals high-level damage to one party member |
Porky later reappears as the main antagonist in Mother 3. He was named "Porky" in the fan translation due to it being his correct name, and also due to a large amount of pig-related puns involving him.
Although not present or mentioned directly for most of the game, Porky's influence is seen through the Pigmask Army that emerges early on in the story. When the game skips forward several years into the future, it is revealed that the Nowhere Islands are controlled by "King P", although the actual Pigmask forces are commanded by the Fierce Pork Trooper, Fassad, and the Masked Man. Porky's presence is hinted at in Chapter 5, when the party goes through his playroom in Thunder Tower. While only referenced as "the King's playroom", it is shown that the most prized possession there is the "Friend's Yo-yo", a reference to Ness's use of yo-yos in the previous game. The fact that Ness is referred to as a "friend" here and that the yo-yo is the most prized possession once again implies that Porky expressed some positive feelings of his former enemy. Porky is finally confirmed to be the identity of "King P" at the end of Chapter 7, when he invites the party to his home in New Pork City.
When Lucas meets Leder, he learns that Porky didn't end up on the Nowhere Islands from the White Ship like the others. Instead, he came from a Time Distorter, and made people from other times, such as Dr. Andonuts, come to this time period. He also began putting animals together to create chimeras and became dictator of the land. He eventually learned of the secret of the Nowhere Islands' past from Locria, the seventh Magypsy. Porky then tries to have the Seven Needles pulled by the Masked Man to control the Dark Dragon and use its power to himself. Lucas tries pulling the needles as well to stop him.
Lucas and his friends confront Porky in the Empire Porky Building. Here, they scale numerous floors to reach him, and throughout he is shown taunting them through an intercom system. When they reach the final floor, he appears in a suit while looking roughly the same age as he was in EarthBound. He tells the party that he wants to be friends with them, and asks them to sympathize with him. However, reguardless of the answer, he explodes, revealing the "young Porky" to actually be one of many Mecha-Porkies. Once all of the Mecha-Porkies are destroyed, the real Porky appears. The misusage of the Phase Distorter resulted in Porky aging abnormally, making him appear as a child with features of an old man, having white hair, pale skin and facial hair (he later states himself to be 1,000 or even 10,000 years old). He has now became weak to the point where he is constantly coughing and wheezing as he speaks, he must also use his spider-mech bed to maneuver. However he still possesses his childish mentality, albiet in a much more twisted way. He does not see people as humans and refers to them as "creatures". He admits he knew about the residents of Tazmily Village blanking their memories to restart the world, without memories of the lifestyle of the past world which brought about its destruction, yet he taunts them saying that in the end they will end up destroyed no matter what they try. Porky then says what he has done was out of sheer bordem, and now expresses his desire to use the Masked Man to pull the final Needle and put an end to everything out of self-enjoyment.
Once the final needle was located, Porky challenged them to try pulling it first. He sent them down an elevator that leads to a cave below the building, but he said he'll be taking a shortcut to the place where the final needle lies. When the party chases him down, his state of madness becomes apparent. Once he learns the Masked Man is Lucas's brother Claus, he does not admit him as a human, calling him his slave robot while saying not a fragment of life remains in him. During the battle, Porky claims he is immortal and will never die, regardless of what happens. He realizes there is a possibility that when the needle is pulled, the entire world will be destroyed with only him and the Dark Dragon remaining. He expresses his desire to see this happen as his master plan is to rid the world of everyone who dislikes him, even if everything in the world does not like him.
When his spider mech is destroyed by Lucas and his friends, he reveals an Absolutely Safe Capsule built by Dr. Andonuts, which he claims is impenetrable. When he enters it, however, he finds himself unable to escape, as the capsule was built to be impenetrable from both sides when sealed. Porky does not appear to realize the nature of his fate, only sticking his tongue out at the protagonists. When Dr. Andonuts appears, he reveals that he designed the capsule in this way (even warning Porky not to enter it), yet he also states Porky may have gotten his wish of being isolated from everyone who dislikes him. Even after Lucas pulls the final Needle, the player can find a large rolling object in the ending that is implied to be the Absolutely Safe Capsule with Porky still inside.
Unused sprites found by hackers show that Porky may have originally been planned to die in the end of Mother 3, though in the end it was modified so that Porky would live on forever in the Absolutely Safe Capsule. Shigesato Itoi has stated that Porky will still be alive in 5.5 billion years when the Earth will be destroyed by the Sun going nova; Itoi says that "the grief of that is incredibly depressing to me. It's amazing... Porky is truly a poem in himself."[3]
Memo

description
"A chubby little brat born near the end of the 20th century in a town called Onett, in Eagleland. Before long, he was plotting evil schemes and setting them into motion, one after another, wicked beyond imagination... ...and a far cry from the mere pranks of a childish bully. For those who would like more details... Well, this is by no means an advertisement, mind you, it just boils down to a simple note for your adventure... ...so if you don't mind my saying, you should try playing that one thing called EarthBound, dude!"
As an enemy
Porky also makes an appearance as an enemy in Mother 3. Lucas and company battle him towards the end of the game, on the way to the Final Needle. All his attacks are inexplicable, stating messages such as "Porky did something!" or "What did Porky do?".
Normal: "Believe it or not, this is Porky in the flesh. He is simultaneously an old man and a young boy."
Absolutely Safe Capsule: "Porky had a tantrum and made Dr. Andonuts and the Mr. Saturns create an Absolutely Safe Capsule."
Gallery

The Absolutely Safe Capsule

An unused graphic from Mother 3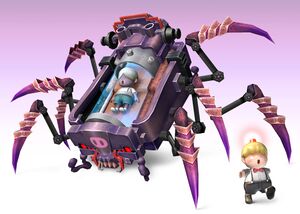 In Super Smash Bros. Brawl, Porky is a boss in the game's adventure mode, Subspace Emissary. Here, he appears after the King Statue fight, and will fight Lucas and Ness. He appears as he does in Mother 3, inside his spider-like mecha. He can use various missiles and bombs, and sends out Mecha-Porkies which explode. He eventually is defeated. Porky then makes an appearance with the other bosses in The Great Maze. Also, like the other bosses, he has his own trophy and appears in boss mode.
Porky also appears as a sticker which raises Ness and Lucas's PK attacks.
Porky appears as a Smash Tour item in the Wii U version. He will steal the effect of an item used by another player. Additionally, he has a trophy.
Porky himself makes no appearance whatsoever, however the Absolutely Safe Capsule Spirit is likely meant to represent him.
Trophy information
Super Smash Bros. Brawl
A self-centered, rotten brat who lives next door to Ness. As the events of the game progress, he's rapidly led astray and becomes Giygas's right-hand man. Afterward, he goes missing in time and then reappears in the Nowhere Islands of Mother 3. He leads the Pig Mask Army invasion but is eventually defeated by Lucas and friends.
Porky was just a chubby, selfish little boy in EarthBound. When he next appeared, in Mother 3, look what he'd become! We might need another two games just to explain how this occurred. Oh, Porky, what in Eagleland (or beyond?) happened to change you so?
Trivia
The reason Porky was named "Pokey" in EarthBound was possibly due to it being based on the transliteration of his Japanese name ポーキー (Pōkī), due to Japanese pronouncing the "or" sound as a long "o". However, the romanization of his Japanese name is "Porky", and most recent evidence suggests his English name was intended to be "Porky" as well (especially as this went on to be the name used in Super Smash Bros.).
An unused graphic in Mother 3 depicts the upper half of Porky shown in a manner similar to that of the Status menu. [4]
Another unused graphic depicts the glass on a machine Porky is inside cracking.
References
Characters of
EarthBound

Main Party
Allies
Antagonists
Villains
Others
Characters of
Mother 3

Main Party
Allies
Antagonists
Others