Magicant (EarthBound)
From WikiBound, your community-driven EarthBound/Mother wiki
Jump to navigation
Jump to search
| | | |
| --- | --- | --- |
| | Spoiler warning: this article or section may contain major plot or ending details! Proceed with caution. | |
This article is about the location known as Magicant in EarthBound. For other usages, see Magicant (disambiguation)
Magicant
マジカント
Magicant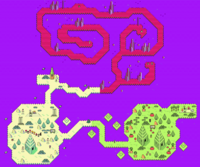 Magicant in EarthBound.
Connected areas
Sea of Eden
Music
Welcome Self (town)
Labyrinth of a Dream (spiral)
Magicant (Japanese: マジカント Magicant) is a location in EarthBound. Magicant is created when Ness gathers all the Eight Melodies of the world, and exists in his mind. Magicant is also the only realm where Flying Man exists.
While EarthBound Beginnings also has a Magicant, the two are not the same place. This Magicant was created by Ness.
Overview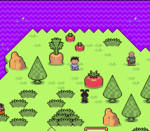 Magicant is created when Ness gathers all the Eight Melodies of the world. Magicant has illusions of friends and enemies Ness has met on his journey, and old memories of his family, friends, and the younger versions of himself. His Magicant also changes colour depending on who he talks to, and it can be reverted back by talking to sunflowers or walking out of a building. The first area is a grassy area with giant vegetables, the second area is snowy, and the third area is a large swirling pink-coloured path. It has a hotel free of charge, and a shop that only sells Earth Pendants and Magic pudding. To the north of the second area is where the Flying Man house is located.
Role in EarthBound
After collecting the final melody, Ness wakes up in a realm within his dream known as Magicant. Similar to Magicant in EarthBound Beginnings, Ness's Magicant is a place inside his mind that contains his memories, such as friends and family he met and enemies. He can interact with his friends and family, and also enemies he met, he can also interact with his younger self. He can also talk to Porky, who tells Ness he wants to be friends, this implies that Ness may actually want to be friends with Porky. Magicant also has the Flying Men who represent Ness's courage. Ness's purpose in Magicant is that he must travel through the Sea of Eden to reach his nightmare, and conquer the evil in his mind once and for all. Once defeated, Ness hears his own voice speaking about how Giygas intends to wipe out the universe, however, the Apple of Enlightenment predicated that Ness and his friends will defeat Giygas. Finally, Ness hears his voice saying that he must go to Saturn Valley to reach Giygas. After this, Ness's mind is cleared of all evil and his strength increases significantly, Ness then wakes up and Magicant vanishes similar to Maria's Magicant.
Shop
Items
Item
Location
Bag of Dragonite
Next to the second Ness in the pink swirl area
Baseball cap
Given by the second Ness in the pink swirl area
Goddess band
At the end of the path from going north at the second fork in the pink swirl area
Magic tart
Near the end of the pink swirl area
Magicant bat
Halfway through the pink swirl area
PSI caramel
At the east edge of the snow area
Enemies
Trivia
In the Japanese version, Ness wears nothing except his red hat in Magicant, while in the English version it was changed to his pyjamas. In Japan, nudity is a symbol of purity in this type of context, and this often occurs when a character is changing for the better during a supernatural event, just like how Ness is clearing his mind of all evil in Magicant.
While Magicant from EarthBound Beginnings appears in Super Smash Bros. series, the giant tomatoes and Flying Men's design, along with the design of their house, are from this version of Magicant.
In the English version a little girl says "La lalala. My name's Nico… Let's run and sing and dance!", in the Japanese the name "Nico" was absent. Nico is the name of the daughter of Marcus Lindblom, one of the localization directors for EarthBound, and she was born during the translation of EarthBound.
Names in other languages
Language
Name
Meaning
Dutch
Magicant
-
French
Magicant
-
German
Magicant
-
Italian
Magicant
-
Korean
매지컨트
maejikeonteu
Magicant
Russian
Грезия
Greziya
Dreamia
Spanish
Magicant
-