Brick Road Maze
From WikiBound, your community-driven EarthBound/Mother wiki
Jump to navigation
Jump to search
For the similarly named character from the same game, see Brick Road.
Brick Road Maze
低予算ダンジョン
Low-Budget Dungeon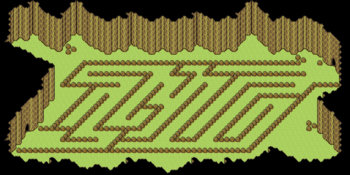 A map of the dungeon.
Region
Foggyland
Connected areas
Winters
The Brick Road Maze[1] is a location in EarthBound, being a cave located on the southern half of Winters. It acts as a tunnel for navigating around a path blocked by an iron pencil statue. The dungeon was created by Brick Road. The Japanese name, as well as the overall simple layout along with Brick Road admitting it was too easy, indicates this dungeon was built with minimal effort put into it.
The dungeon appears as a very small maze inside of a cave and is made up of small boulders. The maze is very simple, consisting of just several forks and dead ends. A sign warns about falling objects, reading it causes the Photo-Man to appear and take the player's picture. A telephone is on the ground at the end with a sign encouraging the player to save the game. The west exit leads just north of Pond Cave where Rainy Circle is found.
Items
Item
Location
Bread roll
At the dead end straight from the entrance
Broken iron
south-westmost dead end
Croissant
Dead end near the center of the dungeon
Insecticide spray
At the dead end from taking the path just below the one where the Bread roll is located
Stun gun
Dead end closest to the exit
Enemies
References