From 18:00 Jan 23 to 00:00 Jan 24 NY Time (6 hrs), Grifkuba sites will experience flaky behavior, including short periods of downtime. Reading and light edits should be fine, but save all work and avoid heavy edits.
Brick Road Maze
From WikiBound, your community-driven EarthBound/Mother wiki
Jump to navigation
Jump to search
For the similarly named character from the same game, see Brick Road.
Brick Road
低予算ダンジョン
Low-Budget Dungeon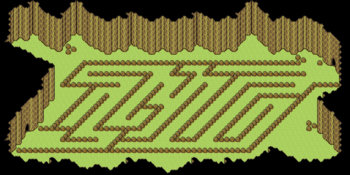 A map of the dungeon.
Region
Foggyland
Connected areas
Winters
The Brick Road Maze[1] is a location in EarthBound, being a cave located in Winters. It acts as a tunnel for navigating around a path blocked by an iron pencil statue. The dungeon was created by Brick Road.
The dungeon itself is a small maze, that Jeff and Bubble Monkey have to get through to reach Dr. Andonuts's lab.
It is a really small maze, so there will be no problem. There are some items along the way,including a good weapon for Jeff, a Stun Gun, which are guarded by enemies, but they disappear after leaving, so you can exit the maze, and you will be able to go back and get the items without having to fight the enemies.
Enemies
Items
References