List of glitch enemies in Mother 3
From WikiBound, your community-driven EarthBound/Mother wiki
Jump to navigation
Jump to search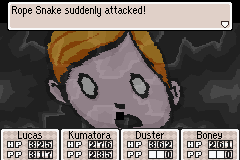 The following are glitch enemies which can be encountered in Mother 3. They are the result of portions of the game's coding being called for enemy data that were not intended to be used for that purpose. All of them use battle backgrounds otherwise not seen in the game, including several which infamously use images of Lucas and Claus. These "enemies" do not have full sprites and instead appear in battle as black squares or a different small, indeterminate sprite. Several also have glitchy attacks, such as "PK Ω" which functions as Hypnosis Ω.
Several of these enemies are speculated to be overworld sprites with unseen labels in the game's coding. These have been linked where correlation is likely.
The hexadecimal identifiers for these enemies are "bf" (191) to "ff" (255); the enemies identified by "01" through "be" (190) are, with only two exceptions, enemies used in the game. Those two exceptions are the only sprited, more-complete unused enemies in Mother 3: the Tiny Forest and the Alkaline Man.