Clayman
From WikiBound, your community-driven EarthBound/Mother wiki
Jump to navigation
Jump to search
| | |
| --- | --- |
| | Spoiler warning: this article or section may contain major plot or ending details! Proceed with caution. |
A Clayman is an artificial species in Mother 3. They are servants made of clay to do as instructed by the Pigmask Army. Duster, along side with Wess, fights one in Chapter 2 as a boss. Lucas and company later fight a Forlorn Junk Heap, a Clayman that was thrown away long ago and merged with various trash. It is extremely weak to Duster's Hypno Pendelum
| Text | Effect |
| --- | --- |
| Throw a punch | Deals mid-level damage to one party member |
| Do a bum-rush | Deals high level damage to one party member |
| Be absentminded | No effect |
| Crash down on top of someone with all its might | Deals high-level damage to one party member |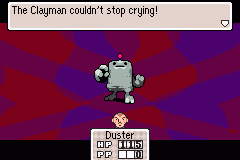 Claymen played a considerably large role in the events of Mother 3. They were first seen in the invasion of Osohe Castle, where they were used in the form of bulky servants to destroy the castle's interior. They are created in the Clayman Factory, as shown in Chapter 4.
An old and beat-up Clayman was found by Duster, and he had buried the Egg of Light inside of it. Three years later in Chapter 5, just as Lucas and his friends were about to retrieve the Egg of Light, a lightning bolt zapped the Clayman, being super-charged with electricity to the point where it could sprint backwards amazing speeds amazing speeds. Over the course of Chapter 5, it makes its way to a garbage dump to be thrown away. Just as the Egg of Light was about to be retrieved, another Clayman in the form of a Forlorn Junk Heap reanimates itself and attacks Lucas and company.
Later, in Chapter 7, just as Lucas and Boney were about to be attacked once again by the Almost Mecha-Lion, a Clayman jumps into the way to save their lives; another is seen trying to force entry into Chupichupyoi Temple before it is destroyed by the Masked Man for failing to do so. Beyond that, the Claymen are only seen again in the credits.
Characteristics
Claymen are large masses of clay that were brought to life. They appear to have a humanoid shape, with a large, rectangular body and large hands with only 3 fingers. Their legs are considerably small for their size, meaning that they are generally slow creatures. They have a pink antennae-like bulb on the top of their heads, which presumably acts as the controlled component of the Clayman. Claymen come to life via being zapped with electricity. This would normally be illogical, due to clay being a non-conductive material, but the mysterious bulb could possibly be a highly conductive wire that courses throughout the Clayman. When an active Clayman is zapped once again, it will be re-energized, capable of running at incredible speeds. They appear to make strange moans to attempt to communicate with others. Claymen are docile in nature, and will only attack if it is either malfunctioning or otherwise commanded to.
Shigesato Itoi pointed out that Claymen are in a sense analogous to humanity, commenting that "in some myths and legends, it's thought that God breathed life into a pile of clay to create humans," and that "You can make the claim that Claymen are people, too."[1]
"A lump of clay brought to life. It works as hard as it looks sad."
Memo

description
"These clods are mass-produced out of clay. To the Pigmasks, they are a valuable workforce that never complains."
References