Clayman Factory
From WikiBound, your community-driven EarthBound/Mother wiki
Jump to navigation
Jump to search
The Clayman Factory is a factory run by Pigmasks. As its name suggests, its purpose is to manufacture Claymen. The factory is two rooms consisting of the small entrance room, and a larger room which contains the exit to the highway.
History
Lucas first visits the factory while in pursuit of the malfunctioning Clayman carrying the Egg of Light. He is mistaken for the commander of the Pigmask Army, and he and his party recieve Pigmask uniforms. They then continue through the western exit and onto the Highway, where they see a dump truck drive off with the Clayman.
In Chapter 7, Clayman production has ceased due to them not being needed anymore, and the factory is filled with Security Robots. Two Pigmasks and Pork Tanks remain just outside the southern entrance.
Items
Item
Location
Secret Herb
From the leftmost Pigmask inside the first room of the factory
Shops and businesses
Enemies
Gallery
Gallery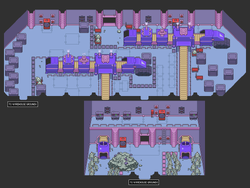 Interior of the factory
Trivia
After Lucas and the party put on their disguises, the entrance to the factory becomes blocked by Pork Tanks making backtracking to earlier locations impossible for the rest of the chapter.