Factory
From WikiBound, your community-driven EarthBound/Mother wiki
Jump to navigation
Jump to search
This article describes the Factory in Murasaki Forest. For other uses, see Factory (disambiguation).
The Factory is a factory run by Mr. Brown. The Factory is intended for digging up clay to turn into Claymen; however, it is rumored that the Pigmask Army is excavating a dragon deep underneath. The workers include Jonel, Bud, Lou, Isaac, Bob, a pig, a stray dog, and various Pigmasks.
History
Lucas and Boney need to work there in exchange for tickets to Club Titiboo, as well as 200 DP, due to the expensive pricing of the tickets which the Factory supplies to its workers for free. Lucas's main job is to take damaged Claymen up to the first floor, so they may be recharged by Pigmasks, while Boney is set to run on a treadmill.
In Chapter 5 Lucas can choose to work at the Factory again, for 200 DP. Mr. Brown also begins to keep a tally of how many times Lucas has worked there; this has no effect on gameplay, however.
In Chapter 7 Lucas can no longer work for the Factory. If he tries to do so, Mr. Brown tells him the Factory is closing down, since Claymen are no longer needed, and claims he is being sent to New Pork City when it is closed.
Items
Item
Location
Factory sketch
Near the ropeway to Club Titiboo
Eye Drops
Outside the factory to the east, between a pile of crates
Ticket
Recieved after Lucas finishes his job
Shops and businesses
Interior
Gallery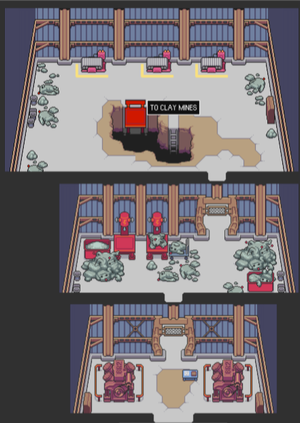 The workspace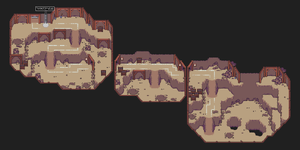 The mine