Caroline's Bakery
From WikiBound, your community-driven EarthBound/Mother wiki
Jump to navigation
Jump to search
Caroline's Bakery
カロリーヌのパンやさん
Caroline's Bakery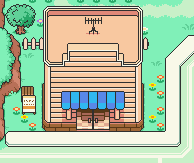 Caroline's Bakery as it appears in Mother 3.
Connected areas
Tazmily Village
Caroline's Bakery is a shop in Mother 3, seen only after the modernization of Tazmily Village. A sign placed outside claims that it is now adopting the new DP system, as beforehand, Caroline would bake Nuts into Nut Cookies or Nut Bread depending on how many were given to her.
The store is run by Caroline, with Fuel and Angie's assistance.
Caroline's Bakery

Item
Price
Effect
Nut Cookie
8 DP
Restores 15 HP
Nut Bread
12 DP
Restores 30 HP
Bread Roll
60 DP
Restores 60 HP
Peculiar Cheese
20 DP
Restores 60 HP if the character is fond of cheese
Restores 20 HP if the character is not fond of cheese
Fresh Milk
60 DP
Restores 80 HP. After a while, turns into Rotten Milk
Fresh Egg
40 DP
Restores 80 HP. After a while, turns into a Chick

Taking it into a Hot spring will turn it into a Hot Spring Egg