Tanetane Island
From WikiBound, your community-driven EarthBound/Mother wiki
Jump to navigation
Jump to search
Tanetane Island
タネヒネリじま
Tanehineri Island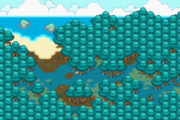 Tanetane Island's beach.
Connected areas
Mixolydia's house
Music
Tanetane Island
Red-Green-Yellow-Yellow♪

*
Tanetane Island is part of the Nowhere Islands. Mixolydia, one of the seven Magypsies, resides on the island. The original Japanese name is Tanehineri Island; however, debug text in the Japanese version of the game refers to it as Tanetane Island. This text, due to its greater resemblance to an English place name, influenced the decision to use the name Tanetane Island in the Mother 3 fan translation.[1]
After fighting Master Eddy in the Sea Floor Dungeon, Lucas's party is washed ashore on Tanetane Island's beach. With no items and their stamina depleted, the party is forced to eat some odd-looking mushrooms, labeled "energizing mushrooms". Under the hallucinogenic effects, Lucas's party sees the landscape in odd colors and enemies appear as hallucinations of people who the party had previously met. Boney, immune to these effects, warns Lucas when a hallucination draws near. Traveling north, the party reaches Mixolydia's home, where she smacks them on the head to cure the effects of the mushrooms, and Ocho returns the player's items. Mixolydia tells them that the Needle on the island is protected by the Barrier Trio. After defeating the Barrier Trio and pulling the Needle, Mixolydia gives Lucas a Razor and Lipstick in remembrance, before disappearing. Ocho then takes Lucas's party back to Tazmily Village.
Shops and Businesses
Mole Cricket's shop
Enemies
Gallery
Gallery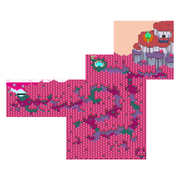 Tanetane Island's appearance after eating the mushrooms.
References