Mole Cricket Hole
From WikiBound, your community-driven EarthBound/Mother wiki
Jump to navigation
Jump to search
Mole Cricket Hole
オケラホール
Mole Cricket Hole

Lucas, Kumatora and Boney explore the Mole Cricket Hole in Mother 3.
Connected areas
Murasaki Forest
Snowcap Mountain
Music
Mole Cricket Elder
The Mole Cricket Hole is a location in Mother 3. Lucas and his party go here in Chapter 7 during their search for the Seven Needles. The Mole Cricket Hole is the only path to Snowcap Mountain in the game. The easiest way to get through the giant maze is to take a turn at every possible chance.
The purple coloring of the floors in the Mole Cricket Hole is very similar to that of the first section of Stonehenge Base in EarthBound.
History
The Mole Cricket Hole is first referenced in the prologue by the Mole Cricket after being defeated. He challenges Lucas and Claus to a battle a the Great Mole Cricket Stadium. Three years later, after pulling the Needle of Murasaki Forest, the Mole Cricket is met again by Lucas and company, and decides to once again challenge him in battle. The mole cricket then brings Lucas to the Mole Cricket Hole to meet the Mole Cricket Elder and battle. After loss, he accepts defeat and asks him to take along his brother for help. They then go through the maze, and go onto Snowcap Mountain to pull the next Needle.
Memo

description
| | | | | |
| --- | --- | --- | --- | --- |
| | • | | Always turn at every turn in the road. These are the words of the mole crickets. | |
Shops and Businesses
Mole Cricket's shop
Items
This article or section of the page is incomplete.
Please help by contributing to it.
Item
Location
Cricket Hole Map
Mole Cricket Brother
Recieved after defeating the elder
Enemies
Gallery
Gallery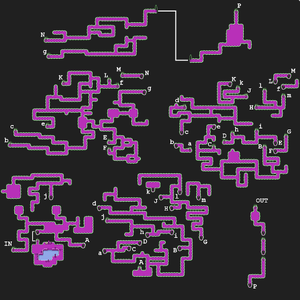 The Mole Cricket Hole