Sunset Cemetery
From WikiBound, your community-driven EarthBound/Mother wiki
Jump to navigation
Jump to search
| | | |
| --- | --- | --- |
| | Spoiler warning: this article or section may contain major plot or ending details! Proceed with caution. | |
The Sunset Cemetery is the graveyard located to the north of Tazmily Village in Mother 3. It is tended by Nippolyte the gravekeeper.
Its location is between the Tazmily Village's Cross Roads and Osohe Castle, appearing as a gravesite built on rocky ground with several dead trees. Nippolyte's shack is in the north eastern corner, which has an underground passage leading to Osohe Castle's front courtyard. In Chapter 4 the shack gets destroyed by lightning. Hinawa's grave is accessed from the east of the cemetery near the shack.
History
In Chapter 1 after Hinawa's death, a funeral service is being held in the Sunset Cemetery to mourn the village's loss. Alec and Lucas are found at her gravestone. When Flint speaks to them, Lucas lies about Claus's whereabouts, and after a little pressure, blurts out that he ran off the kill the Drago that killed his mother. After scolding Lucas, Alec tells Flint to come to his home quickly so they can search for them.
In Chapter 2 on the way to Osohe Castle, Duster is attacked by four zombies. After defeating them, continuing on to Osohe Castle, Duster finds the drawbridge is down, but that Nippolyte somehow made it to the other side after entering his home on the eastern side of the cemetery. Duster then takes a secret passageway in Nippolyte's home to enter the castle.
In Chapter 3 Fassad and Salsa emerge out of one of the gravestones from the Candrum Underpass.
At the beginning of Chapter 4, Lucas can find Flint at Hinawa's grave, where he tells Lucas to pay his respects. While Lucas is thinking of memories of his mother, Flint leaves to search for Claus, where he remains until Chapter 8.
During Lucas's search for the Seven Needles in Chapter 7, Boney pulls Lucas aside and reminds him to visit his mother's grave. Nippolyte is found there, and he explains how depressing Flint's situation has become, only ever searching for Claus or visiting Hinawa's grave. He then gives Lucas the Courage Badge on Flint's behalf. A letter from Mr. Saturn is also found in the cemetery, nearby where the refrigerator lands after pulling the Needle on Snowcap Mountain. This note leads Lucas to Saturn Valley.
Items
Enemies
Graveyard
Tunnel to Osohe Castle
Gallery
Gallery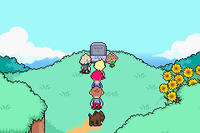 Hinawa's grave