Unknown Valley
From WikiBound, your community-driven EarthBound/Mother wiki
Jump to navigation
Jump to search
The Unknown Valley is an area in Mother 3 part of the Murasaki Forest. The Clayman Factory and Thunder Tower are located in this area.
Unknown Valley is on the other side of the hill where the waterfall is. After going under the highway is a cave with a hot spring and shop run by a mole. Outside is the valley with many holes in the ground here that lead to an underground cavern, all eventually leading to the same exit except for the one furthest southwest, which exits where Duster hid the Egg of Light in a Clayman. Past that it loops around Thunder Tower then under the highway, and finally reaches the Clayman Factory.
History
In Chapter 5 Duster recalls hiding the Egg somewhere in the valley when he got lost three years prior. He hides it in a broken Clayman mistaking it for a regular mound of dirt. After scaling the cliff, Lucas's team find the valley on the other side of the waterfall hill. Eventually they find the Clayman, however it soon activates and rushes around Thunder Tower. They chase it into the Clayman Factory where it is taken to the dump, forcing the party to travel the Highway to retrieve it.
Items
Shops
 

This article needs correct shop table data.
The shop data requested is: "Sprite"
You can discuss this issue on the talk page or edit this page to improve it.
Mole collector

[[File:|left]]

Item
Price
Effect
Better Stick
500 DP
Weapon for Lucas (Offense +20)
Durable Gloves
300 DP
Weapon for Kumatora (Offense +16)
Sharp Shoes
480 DP
Weapon for Duster (Offense +17)
Fly Charm
350 DP
Armor for Lucas, Duster and Kumatora (Defense +10)
Sparrow Bandana
200 DP
Armor for Duster (Defense +9)
Azure Ribbon
180 DP
Armor Kumatora and Boney (Defense +8)
Capricorn Bracelet
600 DP
Armor for Lucas, Duster and Kumatora (Defense +9)
Enemies
Gallery
Gallery

The cave behind the waterfall

Pothole section

The pothole cave
Gallery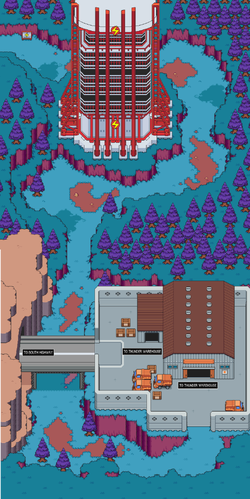 The factory and tower base
See also