Alec's Log House
From WikiBound, your community-driven EarthBound/Mother wiki
Jump to navigation
Jump to search
Alec's Log House
アレックのログハウス
Alec's Log House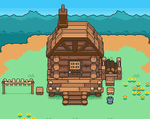 The outside of Alec's home as it appears in Mother 3
Connected areas
Mt. Oriander
Music
Alec's Log House
Alec's Log House is a location in Mother 3, and is the main setting of the Prologue.
In the Prologue
During the Prologue, Hinawa, Lucas and Claus are visiting their grandfather Alec at his home. Lucas is woken up by Claus at the very start of the game to play with the Dragos outside. After play-fighting by dashing into them, Hinawa calls them inside to eat their favorite food. After eating, Hinawa sends a letter to Flint saying they miss him and will be home soon.
Before he begins his search for Claus, Flint stops by at Alec's home, where Alec joins him to escort Flint to Aeolia's house and help in the search.
Alec's house is destroyed by lightning a while after the Pigmask Army take over Tazmily Village. The Oriander Observatory is planned to be built in place of his house, and Alec is moved to the Old Man's Paradise retirement home.
Trivia
There is an unused cutscene in the coding showing Alec looking at the remains of his demolished home.