Club Titiboo
From WikiBound, your community-driven EarthBound/Mother wiki
Jump to navigation
Jump to search
Club Titiboo
クラブ・チチブー
Club Titiboo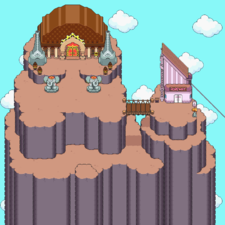 The mountain on which the Club is located.
Connected areas
Ropeway
Murasaki Forest
Music
Ride the Ropeway

*


Club Titiboo Theme

*


Girl's Room

*


The Attic's a Dungeon?!

*


Lucky's Room

*
Club Titiboo is an area in Mother 3, and is where the later events of Chapter 4 occur. Club Titiboo is a concert hall where the workers at the factory hang out after work, the famous band known as the DCMC perform there. The waitresses at Club Titiboo end their sentences with a giggle, which Kumatora was forced to do while she worked there.
Overview
The first room is the lobby, where the player can buy DCMC items from a salesman, soda from a vending machine and food at a stand. The upper door in the lobby leads to the concert hall, where the DCMC plays. There are also two lateral rooms, consisting of bathrooms to the left, where a Save Frog can be found, and the band members' rooms to the right. There is an underground passage on the right side, which leads to Kumatora's room.
There is also the attic "dungeon", which is used as a passageway to reach Lucky's room. The attic is a large maze consisting of many room, most leading to "dead ends" made from crates or large pipes. There is a black pipeline which acts as a guide to taking the correct paths, however. The last room is where Lucas and Boney fight the Jealous Bass, before arriving at Lucky's room.
In Mother 3
During Chapter 4, a band named the DCMC performs at Club Titiboo. One of its members, named Lucky, closely resembles Duster. In order to gain access to Club Titiboo, a Ropeway which accepts tickets must be ridden. These tickets are expensive, however, so many people get jobs at the Factory to get them. Kumatora works at Club Titiboo temporarily to gain information on Lucky and his identity, under the identity of Violet, becoming very popular with the men there. Lucas and Boney visit the club also to find out more information on the bassist Lucky. The security guards Skinhead and Neckbeard, however, refuse to let them in as dogs are not allowed, so Lucas puts clothes on Boney as an attempt to disguise him. The security are suspicious and still refuse to let them in, however Kumatora (as Violet) recognizes them and pretends that they are common visitors, and so they are let inside.
Lucas and Boney then watch a DCMC performance. During the performance, Lucky's wig pops off hinting that he is Duster. Kumatora then assists Lucas to go to Lucky's room to meet him, and convince him that he is indeed Duster. Due to the security guard blocking the way, Lucas and Boney detour into the attic to reach there. When Lucas makes it to Lucky's room, Lucky is given the choice to stay with the DCMC or go back to his former identity as Duster, which he leaves up to a game of Stone-Sheet-Clippers. The DCMC gives Duster a farewell song to send him and Lucas's party off, signifying the end of the chapter.
During Chapter 5, the DCMC no longer perform there due to Duster leaving, and Club Titiboo is shut down in Chapter 7, left completely deserted.
Memo

description
•
On the outside, it appears to be an entertainment center for people who work at the factory, but...


...it seems as though it could have quite another side to it.
Enemies
Tunnel
Attic
Shops
 

This article needs correct shop table data.
The shop data requested is: "sprites"
You can discuss this issue on the talk page or edit this page to improve it.
Vending machine
Vending machine

 
Name
Price
Effect
Big City Cola
10 DP
Restores 30 HP
DCMC Merchandise Salesman
Food stand
Food stand

 
Name
Price
Effect
Big City Soda
8 DP
Restores 20 HP
Big City Cola
50 DP
Restores 30 HP
Big City Burger
60 DP
Restores 100 HP
Bag of Big City Fries
40 DP
Restores 70 HP
Doggy Biscuit
16 DP
Restores 60 HP

*

or 6 HP

*
Mouse
Gallery
Gallery

Outside of Club Titiboo.

Inside the lobby.

The stage area, where DCMC performs.
Trivia
After the DCMC's final show, a guitar pick is left on the floor by the stage.