Mr. Prettyman
From WikiBound, your community-driven EarthBound/Mother wiki
Jump to navigation
Jump to search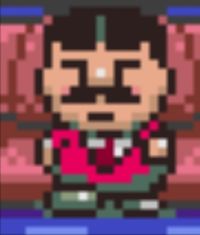 Mr. Prettyman (Mr Colorman in Japan) is a character in EarthBound who appears in the aftergame.
After beating Giygas Mr. Prettyman appears in the Minchs' house. He appears to be giving Lardna advice while Aloysius is out in Fourside, and Lardna mentions he is a very nice and wonderful gentleman. When talked to he tells Ness his father is in debt, implying he was told by one of the Minchs about the loan.
Trivia
His Japanese name, "Mr. Colorman" is the Japanese word "iro-otoko" translated literally into English, which means something like "lover boy", "lover", "stud" and similar things.
It is often speculated that Mr. Prettyman is Lardna's new husband and she divorced Aloysius, however this is not true.
Characters of
EarthBound

Main Party
Allies
Antagonists
Villains
Others