Starman
From WikiBound, your community-driven EarthBound/Mother wiki
Jump to navigation
Jump to search
This article details the regular Starman and the Starman race as a whole. For different variants, see Starman (disambiguation).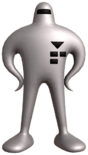 Starmen are a race of robotic aliens that appear in Earthbound Beginnings and EarthBound, and have many different variants. They are Giygas's main henchmen, alongside the Mooks, and because of this are very iconic enemies of the series. Despite this, however, they are completely absent in Mother 3.
History
Starman


スターマン

Starman
Stats
HP
80
PP
50
Offense
45
Defense
80
Fight
30
Force
35
Speed
40
Strength
40
Wisdom
60
Experience/money yields
Exp.


165

Money


$68

Item
PSI Stone 1/16 chance of finding
Locations
Spookane hotel
Yucca Desert
Swamp
Mt. Itoi
Description
A man from the stars.
Starmen first appear in Earthbound Beginnings as very common enemies, first appearing in Spookane's hotel as a boss, disguised as a hotel worker, and becomes a regular enemy from that point on. Starmen in-battle are capable of unleashing the deadly PK Beam series of attacks, including PK Beam γ, which can instantly kill one party member.

Starman


スターマン

Starman

Appearance in EarthBound
Stats
HP
545
PP
155
Offense
103
Defense
126
Speed
24
Guts
25
PSI strengths/weaknesses
Fire
75%
Freeze
75%
Flash
10%
Paralysis
10%
Brainshock
10%
Hypnosis
50%
Experience/money yields
Exp.


23396

Money


$720

Item drop after battle chances
Brain food lunch
1/128 chance of finding
Locations
Stonehenge
Starmen in EarthBound comparatively do not appear in their regular form as much as they do in EarthBound Beginnings, only appearing in Stonehenge base. There are many other variants, however. Unlike most enemies, they travel by using teleportation, a trait shared with the similar Starman Super.
| Text | Effect |
| --- | --- |
| Fire a beam | Deals mid-level damage to one party member |
| Be on Guard | Guards and halves damage done to self |
| PSI Magnet α | Siphons 2-8 PP from one party member |
| Shield α | Creates a physical shield for one enemy |
| Use a Sudden guts pill | Doubles the Starman's Guts for the duration of the battle, presumably only usable twice |
"The Starman often warps into the middle of the party to attack. This robot is the primary sentry in the Stonehenge base. Watch out for his beam weapon and PSI magnet attacks."
A Starman trophy is obtainable in Super Smash Bros. Melee, while a Starman sticker is obtainable in Super Smash Bros. Brawl, adding Attack +10 in the Subspace Emissary mode. Starman is now also a new assist trophy in Super Smash Bros. 4. He teleports around, firing PK Beam γ and Ω. In Super Smash Bros. Ultimate, Starman returns as an assist trophy. When Starman is KO'd in both games, he will be sent flying with a

graphic appearing. Starman also has a Spirit in Ultimate
Trophy information
Super Smash Bros. Melee
| Name | Image | NTSC-U Description |
| --- | --- | --- |
| Starman | | Just one kooky subset of the diverse cast of enemies in EarthBound, these strange creatures are aliens in the employ of Giygas. Variations of the Starman race include Starman, Starman Jr., Starman Deluxe, and Starman Super. They all use PSI powers, but their strength differs depending on the level on which they're found. |
Super Smash Bros. 4
| Name | Image | NTSC-U Description |
| --- | --- | --- |
| Starman | | These alien henchmen serve Giygas, the chief villain of EarthBound. In Smash Bros., the assist trophy Starman will teleport around and fire off PSI moves like PK Beam γ or PK Beam Ω. You can defeat one summoned by an opponent, but they won't go down without a fight. |
Derived Species
Notable Starmen
Gallery
Trivia