Rosemary's house
From WikiBound, your community-driven EarthBound/Mother wiki
Jump to navigation
Jump to search
Rosemary's house
ローズマリーさんのやしき
Rosemary's Mansion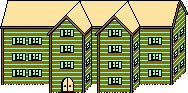 Region
America
Connected areas
Spookane
The Rosemary's house is a location in EarthBound Beginnings, being north of the town of Spookane. The house is a large mansion where the Rosemarys formerly resided, however during the games events the house became overrun with ghosts forcing the Rosemary's to retreat to a new address in the residental area of Spookane. One of the Eight Melodies is found inside the mansion.
Layout
To go inside, Ninten must receive the Ghost House Key from a woman in the suburban side of Spookane. The mansion itself is located north of the suburban area of Spookane. The mansion is a large maze consisting of a single room with one or two doors to the left, which are used to advance, and a single door used to backtrack to the right. Each door will lead to another room with a similar layout or downwards staircase. There is no clear indication on which door leads where, with many doors leading to dead end rooms with either items or nothing at all.
One of the rooms contains the lone piano that will play the fourth melody which, from the entrance, can be accessed by taking the top, top, bottom and bottom doors in order.
History
After obtaining the key from the Rosemary's, Ninten enter the mansion to find it invaded by ghosts and other supernatural beings. A mouse in the first room hints at the room with a piano, which Ninten and the party soon investigate. They navigate the mansion with hopes of not reaching a dead-end. Occasionally they hear voices telling them they'll never make it or to go back, however Ninten ignores them and presses onwards. At the basement, is a lone piano. Mysteriously, the piano plays by itself, the fourth melody.
Items
Item
Location
Antidote ×2

From the entrance, by taking the bottom doors twice
From the previous Antidote, by taking the bottom doors twice once again.

Bread
From the room with the first Antidote, by taking the top and then the bottom doors.
Life Up Cream ×2

From the room with the first Antidote, by taking the bottom and top doors
In the same room as the piano.
Enemies