Mt. Itoi Base
From WikiBound, your community-driven EarthBound/Mother wiki
Jump to navigation
Jump to search
This article may have an unofficial name.
If an official name for this article's subject is found, please discuss it on the talk page.
The Mt. Itoi Base is the short segment located between Ellay and Mt. Itoi Caves.
Layout
The base is accessed from heading out of Ellay from the north east, then heading south. The path is mostly linear and is bordered by two rivers. After going south a bridge can be found, and upon crossing it will lead to a forest with a small rest house where the player can either sleep for a full heal, or buy Life Up Creams for free. The path continues east then turns north, and ends at a cave that leads to the Mt. Itoi Caves.
Similar to Magicant Underground, the forest path was altered during localization to being a linear path to the cave: in Mother the path was more of a maze with many misleading paths between the trees, whereas in EarthBound Beginnings and Mother 1+2 the misleading paths were blocked by trees. Interestingly in Mother a group of trees form the shape of a question mark (?).
Items
Item
Location
Life Up Cream
Given by the man in the rest house upon answering "Lifeup"
Enemies
Gallery
Gallery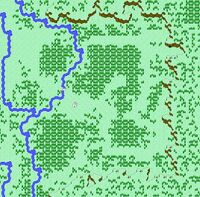 Mt. Itoi Base in the Japanese Famicom version.
See also