Mook
From WikiBound, your community-driven EarthBound/Mother wiki
Jump to navigation
Jump to search
This article is about the Mook species, as well as the generic Mook enemies in Earthbound Beginnings. For other uses, see Mook (disambiguation).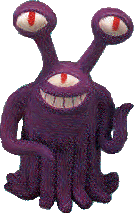 Mooks are a race of aliens that appear in Earthbound Beginnings and EarthBound under the employ of Giygas, alongside the robotic Starman. Mooks are a species capable of unleashing various PSI attacks and often appear in groups working together, making them very dangerous if encountered. In Beginnings, they can also even steal items while in-battle.
History
Mook


ムーク

Mook
Stats
HP
85
PP
80
Offense
50
Defense
110
Fight
50
Force
30
Speed
40
Strength
30
Wisdom
100
Experience/money yields
Exp.


166

Money


$42

Locations
Swamp
Near Ellay
Description
It uses various PSI attack.[sic]
Generic Mooks first appear in Earthbound Beginings in the Swamp area, then in the area near Ellay. It can use PSI attacks and can be a real threat if encountered in large groups. Oh-Mooks, a stronger version of the Mooks, can also be encountered on Mt. Itoi.
In Earthbound, only sub-species of Mooks appear, such as Lesser Mooks in Winters and Mook Seniors in Stonehenge base. In addition to their abilities in the previous game, Mooks in this game can also diamonize members of Ness's party. The Department Store Spook, however, resembles a generic Mook enemy from Beginnings.
Derived Species
Notable Mooks