Eight Melodies
From WikiBound, your community-driven EarthBound/Mother wiki
Jump to navigation
Jump to search
| | | |
| --- | --- | --- |
| | Spoiler warning: this article or section may contain major plot or ending details! Proceed with caution. | |
The Eight Melodies (Japanese: 8メロディーズ Eight Melodies) appear in two games in the Mother series: the first in EarthBound Beginnings and the second in EarthBound. They both play a large role in their respective games' stories.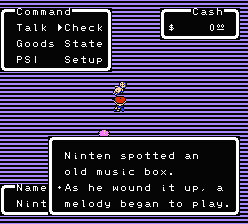 The Eight Melodies of Mother was the song that Maria sung to Giegue as a lullaby during the time she was with him.
Throughout the game, Ninten will have to check or use Telepathy on certain objects or characters to learn each of the Eight Melodies. After getting the Ocarina, he can listen to any known melodies anywhere. He can learn them in any order, although the order listed in the game is below, along with their lyrics.
After learning the Eight Melodies, Ninten will be warped from George's tombstone to Magicant where he must sing it to Queen Mary. She will remember the song, and Queen Mary will finally rest in peace, destroying Magicant.
Singing the Eight Melodies are the only way of defeating Giegue in the final battle.
The Eight Melodies of Mother also appear prominently on the Mother and Mother 1+2 soundtracks. They also occur as part of the medley "Mother" used as the primary musical track for the Onett stage in Super Smash Bros. Melee and Super Smash Bros. Brawl.
Bard's song
A bard in Magicant sings about the Eight Melodies, and their various locations.
"Why do you cry, oh Cupid-Doll?
Canary sings so sadly.
Monkey sings, Piano plays, maybe there is a ghost?
Desert Cactus so alone, every night his sad, sad tone.
The Dragon sleeps, the note remains.
Eve's last song has no refrain.
On the Mount named Itoi, you must climb high young boy.
See the XX Stone, for the last tone, then do not leave Queen Mary alone!"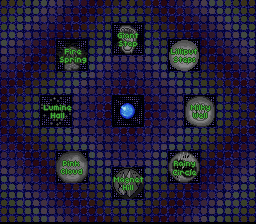 In EarthBound, the Eight Melodies are learned from each of the Your Sanctuaries. After learning all eight, Ness's mind will be one with Earth, and create his Magicant, where he will defeat the evil of his mind.
At the beginning of the game, Buzz Buzz will give Ness the Sound Stone to record the melodies at each Your Sanctuary location. Similar to the Eight Melodies in EarthBound Beginnings, most of the melodies can be recorded in a different order. Below is a list of the sanctuary locations, in the order that the Sound Stone lists them in.
In Mother 3, during the staff credits, a medley consisting of the Eight Melodies of Mother, the Eight Melodies of EarthBound, and the Mother 3 Love Theme plays. In the Sound Player, it is called 16 Melodies (Beginning), obviously referencing the two sets of Eight Melodies.
The Mother 3 Love Theme is also comparable to the sets of Eight Melodies in that it serves as an emotional theme for the protagonist, intentionally designed to be so simple it can be played on a piano with one finger by anyone.[1]
References