Nintendo GameCube
From WikiBound, your community-driven EarthBound/Mother wiki
Jump to navigation
Jump to search
| | |
| --- | --- |
| | This article or section is under construction. |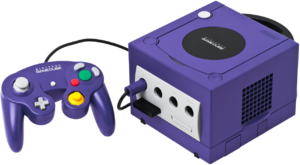 The Nintendo GameCube (Japanese: ニンテンドーゲームキューブ Nintendo GameCube) is the sixth generation Nintendo console. The console was released in 2001 as a successor to the Nintendo 64.
There were no EarthBound series games released for the Nintendo GameCube, with the only EarthBound related game being Super Smash Bros. Melee, which features Ness as a playable character and Onett and Fourside as stage.
Hardware
The system is Nintendo's second console to display 3D graphics. The controllers are similar to the Nintendo 64's except it has two grips instead of three. The controler features the standard A and B buttons, L and R shoulder buttons, a purple Z button above the R button, a normal analog stick, a C analog stick, a d-pad, X and Y buttons and a start button. Like its predecessor it supports up to four player.
Save data is stored in the external GameCube Memory Cards. Three cards were officially released: a gray one that supports 59 blocks, a black one that supports 251 blocks, and a white one that supports 1019 blocks.
Game Boy Player
The Game Boy Player is an accessory that allows the GameCube to run Game Boy Advance games. Using this one can play the Game Boy Advance games Mother 1+2 and Mother 3 on the GameCube.
With Game Boy Player