HAL Laboratory
From WikiBound, your community-driven EarthBound/Mother wiki
Jump to navigation
Jump to search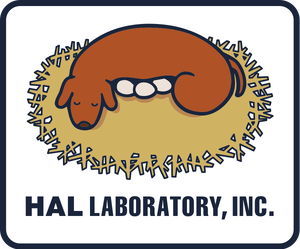 HAL Laboratory, Inc. is a Japanese is a second-party video game developer. Closely associated with Nintendo, HAL has developed franchises such as Kirby and Super Smash Bros., and was involved during the development of the Mother series. Its current president is Shigefumi Kawase; a role that was once held by Satoru Iwata. HAL Laboratory is currently headquartered in Chiyoda, Tokyo.
History
HAL Laboratory started off making games for the MSX system and the Commodore VIC-20. After financial strain brought on from the development of Metal Slader Glory (1991) for the Famicom, Nintendo offered to rescue HAL from bankruptcy on the condition that HAL employee Satoru Iwata was appointed as its president, which he became between 1993 and 2000. Iwata later became president of Nintendo.
The logo 'Inutamago' was commissioned in 1998 by then HAL Laboratory president, Satoru Iwata. This was handled by Shigesato Itoi who went through many different ideas. He went with the theme of 'an unexpected bond...one that brings the birth of something new' which would lead to the idea of a dog incubating eggs in a nest. The actual design was created by Mr. Akiyama of HAL. The design was indoctrinated by HAL Laboratory in 1998, although the reception at first was lukewarm.