Ape
From WikiBound, your community-driven EarthBound/Mother wiki
Jump to navigation
Jump to search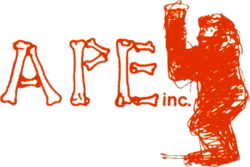 Ape Inc. is a company known for developing the first two games in the EarthBound series. It was founded on March 1987 as a joint venture between Shigesato Itoi and Nintendo.
After completing their work on EarthBound, Ape's game development team disbanded. In 1995, several former Ape staff founded a new company called Creatures Inc., which owns a large share of the Pokémon franchise.
Ape still exists today to manage its intellectual property rights.
History
Ape Inc.
Ape Inc. was founded in March of 1987 with the express purpose of developing the original Mother title. Hiroshi Yamauchi, then-president of Nintendo, organized the creation of the development studio after receiving Shigesato Itoi's proposal for an RPG set in contemporary times. Itoi was set as the company's chief executive officer and director of the project, with development assistance from Pax Softnica. Once the Mother project was completed in July 1989, early prototypes and general concept work for the sequel began. During this period, Ape primarily served to assist other developers on separate projects. Tsunekazu Ishihara, who is currently president of The Pokémon Company, joined Ape in 1991.
The five-year development period of EarthBound led to numerous threats of cancellation, which eventually resulted in Satoru Iwata of HAL Laboratory, Inc., voluntarily joining the project. Under Iwata's instruction, the entire base code of EarthBound was scrapped and the development began anew under his supervision, with the smaller HAL team working on just the programming and the larger Ape side of the project focusing on specific features of the game, such as dialogue, enemy data, area maps, etc. The two sides of the team would meet biweekly at HAL's office. Ape's development team was disbanded after finishing EarthBound.
In addition to game development, Ape was also responsible for editing a series of official Nintendo guidebooks published by Shogakukan Inc., beginning with Encyclopedia Mother in 1989. Shogakukan took over Ape's duties in 1996 and continued to publish this book series until 2018.
Currently, Ape Inc. still exists for the purpose of managing its own intellectual properties, including EarthBound. It is an affiliated company of Nintendo as well as Shigesato Itoi's company Hobonichi.[1][2] Itoi remains the CEO to this day.[3]
Creatures Inc.
On November 8, 1995, a separate company called Creatures Inc. was founded with Tsunekazu Ishihara as CEO and consisting of other former Ape staff members. Creatures would assist Game Freak in the final phases of development for Pokémon Red and Green. Following the success of the franchise in the mid-1990s, Creatures, Nintendo, and Game Freak established The Pokémon Company to manage the Pokémon brand. Creatures is also known for developing the Pokémon Trading Card Game, as well as various Pokémon toys.
As of February 2022, Creatures has 207 employees. Its current president is former Nintendo employee Hirokazu Tanaka, who composed most of the music for the first two EarthBound games.
Body of work
EarthBound games
Non-EarthBound games
See also
References